Does this happen to everyone?
When you randomly make a comment about a person/thing, or end up in an out-of-the-blue discussion about it, do you suddenly see and hear about that person or thing EVERYWHERE?
Cuz I do. And it drives me insane.
The other day the boyfriend came home at the end of Eternal Sunshine of the Spotless Mind and watched with me. He mentioned his distaste for Mark Ruffalo; I disagreed. I like him.
Random comments, nothing in-depth.
But now everything I see involves who? Mark Frickin' Ruffalo.
A few nights before that, we were talking about Julianne Moore - trying to remember her name, and what movies she was in, etc.
And so go figure that I then learned about the movie
Blindness
...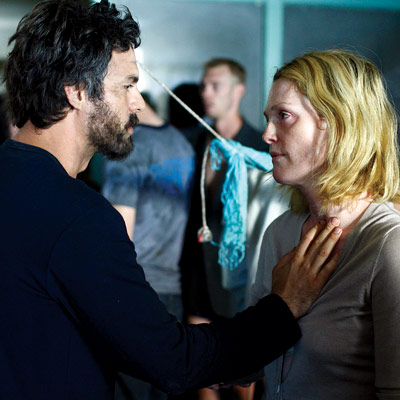 That's right. Both of em. One movie.
On the upside, it looks like a good film. Canadian, too.
Guess I'll have to find someone to go see it with me, since the Ruffalo-hater I live with probably won't.