Lately, me and the boy have been taking in a veritable crapload of films. Some good ones, some great ones, some disappointing ones.
7 Pounds - we liked; Benjamin Button - kinda disappointing; Taken - not bad; Gran Turino - surprisingly good, etc, etc...
But out of all of them,
The Wrestler
made me think of actual people, who had similar paths.
Few people know this, but when I was younger I watched a bit of wrestling. I wasn't a huge fan, but there was the rare occasion that I'd voluntarily watch to see what the fuss was about.
Mickey Rourke's character reminds me a lot of
Shawn Michaels
and
Ric Flair
.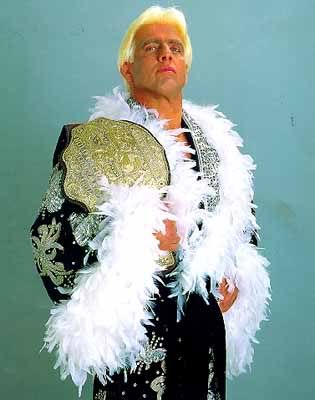 Shawn, "The Heartbreak Kid", used his badboy persona and female following to his advantage. I had a friend in grade school who was obsessed with him, and it is because of her that I still remember his theme song about how he's "not a boy toy", but is "just a sexy boy".
Still makes me laugh. And no, I don't think it's supposed to.
He more or less personifies Mickey Rourke's stage show in the movie.
Ric Flair, on the other hand, was a bit more flamboyant with his act. He wrestled into old age, like in the movie, and is now still one of the best-known wrestlers ever.
But he's a great example of a performer who has a hard time letting go of his career.
Great movie, with a pretty thought-provoking story.
Goes to show that wrestlers aren't all flash and wasted muscle. Some live and die for their sport, and there's nothing fake about it.