A lot of non-business-related emails come my way daily. Sometimes they're sweet & flattering. Sometimes they're friendly & nice.
Sometimes they're a bit... strange.
These ones often cause me to assume that someone's having a bit of fun with me; playing a silly joke in hopes that I'll take the creepy bait (oh, that Kris... what a gullible little girl).
That was my first reaction to this one:
Hello Kristen,
I came across your profile on Google+ and when I saw your photo, I was like WOW!! This woman is gorgeous!! You are very beautiful and look very sweet and caring! Know I have been looking all over for you! You truelly are a real dream girl come to life for me! I hope you don't mind me emailing you as your email was made visible to me as I put you in my circle of friends on Google+! Don't fret, I am not looking to hook up with you right away or anything like that! I simply felt it was important of me to let you know how I feel about you! It is totally up to you if you wish to reply back to me, but I sure would like to have you in my life as a friend or more if you are interested of course! Your a lucky girl considering I like you and all! lol. ;-)
Sincerely,
your new friend,
(I'm not adding his name, obviously)
Huh?
I rarely go on Google+ - there's hardly any info about me on there
.
So I assumed this was just someone being funny. I get random emails like this every once in awhile and tend to ignore them; the internet is a strange place, after all. For some reason, I didn't ignore this one. Instead, I checked out the dude's profile and creeped his social media links to see if he was real. I even emailed him back and
asked
if he was.
Turns out, it's legit. He's a (somewhat) normal guy.
And so, I have to ask... do these kinds of emails ever work for anyone? Really?
Because while I now realize he meant well, was trying to be nice and didn't intend to creep the shit outta me... I don't see how it could have any other outcome. Some of those comments are way overboard.
So to those who may reply and tell me that I'm a bitch for not wanting to scoop this dude up, this is my reaction to you: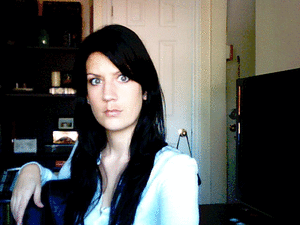 Your thoughts, friend-type-people?