So tomorrow is Valentine's Day.
Half of you love it. Half of you hate it. As a single chick, I'm fairly indifferent to it. I am in love with love in general, and always thought it was nice to have a day to be with those you cared most for. For me, there was nothing better... even if love is pretty darn blind.
That said, I haven't "celebrated" that much for the big V-Day since maybe 2008.
If I were currently in a serious relationship instead of constantly testing the waters, who knows if I'd feel any different about the day. I'm not quite sure of anything, in that respect.
As it stands, we all know who I love most anyway: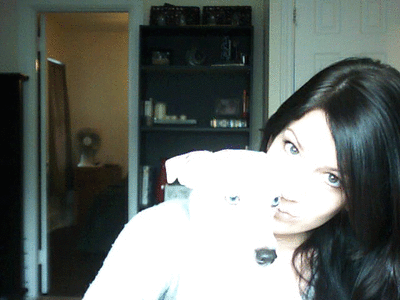 But hey - I love you guys, too. So here's a giveaway for you folks.
La Crème Cow
is a new line of spreadable cheese that comes in three flavours: Original, Light, and Parmesan and Peppercorn. They're tasty and easy for people like me who don't wanna put too much work into my snacks. I may or may not have jumped up & down in a giddy manner when I received these. Yes, they're that good.
They've put together a prize pack worth $100, featuring a massive amount of coupons for these cheeses (all three flavours), crackers, glasses, and a lot of other utensils & fun cheese-related items.
To win, all ya have to do is leave a comment with the cheesiest pick-up line you've ever heard. Or, go 'like'
Shambled Ramblings on Facebook
and leave me a cheesy pick-up line there. Embrace the cheese. You know I do.
Good luck. And Happy Valentine's Day from me, the chien, and all of my secret
boyfriends.
Kisses and 10-second hugs,
Yer Bitch.